I'm so excited to introduce another link-up that I'll be co-hosting this year! What Would You Do Wednesday. For this link-up we are given a prompt
What would you do ________? Each month we fill in the blank with something different and share our ideas here. We might focus on fabric or something to craft with, we might focus on food and share recipe ideas, and we may focus on fashion and share some styling ideas--anything goes, though. It's all about getting creative and staying true to yourself.
This month's prompt is: What would you do with an hour to yourself?
This was hard to answer because my mind is filled with things I would do: watch a few episodes of a show I love while eating takeout on the couch all by myself, read a book, clean parts of my house, exercise intensely--maybe even at the gym, get a massage, pedicure, or haircut--the list goes on. The truth is, I don't have a lot of time to myself. I try to take at least five minutes a day (today that time is spent here--blogging) but I usually spend any (limited) extra time with Zach.
If I had an hour to myself I would spend it in the bathtub/getting ready. Those are things that I absolutely love and really miss.
Where most of my time goes--and I'm really (really) okay with that.
I would take a long bath with a bath bomb, shave, relax, and read a book (no phones allowed). After my bath, I would take my time putting on lotion, grooming myself, and getting ready--including jewelry, perfume, my favorite bra, and more. I love nothing more than getting ready and I just don't get the full experience very often these days. It would be perfect.
I'm excited for the ways that this link-up might encourage me to get creative and even step out of my comfort zone from time to time. I'm even more excited about seeing the posts that link up here--to see all the different takes on each month's post. Make sure you're following me on Twitter so that you can hear what the prompt is in advance. (Also see the hashtag #wwyd )
Grab the code below to add to your post and link-up to tell us what YOU would do with an hour to yourself!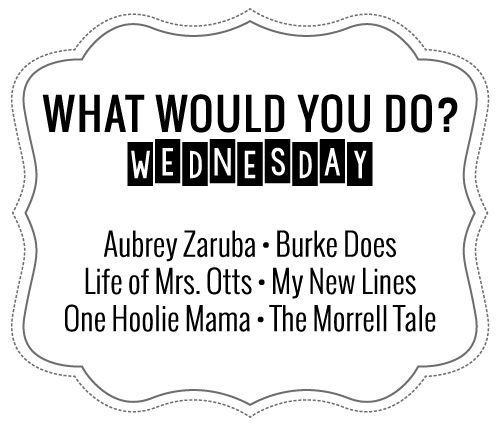 Grab a Button and Link Up